Free Events and promos to help you save
By Her Savings on May 14, 2013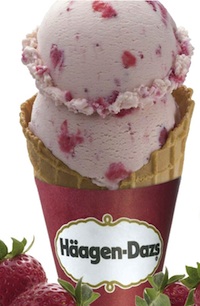 Reminder…
Haagen Dazs is having a Free Cone Day on May 14th!  You can receive a scoop of your favorite flavor totally free!
Find a participating Haagen Dazs location and more information on their Facebook page.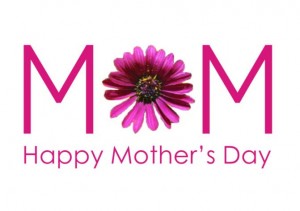 I want to take a moment to wish every single Mom out there a very special Happy Mother's Day!!
My mom is so very special to me, not only is she a wonderful mom, but such a loving Nana to my boys.   Thank's Mom, we love you!!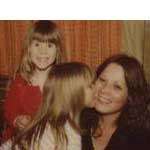 This picture above was taken about 1980, that's me in red; I was about 3 years old, my sister Teresa and my mom Susan!
In honor of Mother's Day, here are a few Freebies and Deals to help you celebrate…
O'Charley's :  On Sunday, May 12th,  All Mom's receive a free piece of pie on May 12th.
IKEA:  On Sunday, May 12th from opening until 11AM, Mom eats FREE at IKEA!  Breakfast includes scrambled eggs, bacon, potatoes and a cup of coffee (value $1.98). Limit 1 per family.
Free Admission to Public Gardens:  On Friday, May 10th,  it's National Public Gardens Day, Print a coupon good for free admission to a Public Garden. You are able to print the coupon multiple times, but only 2 persons are to be admitted per each printed coupon. For example a family of 4, print the coupon twice; family of 3, print the coupon twice; family of two print coupon once. The participating gardens are listed below the coupon.
Outback Steakhouse:  Now through June 16th, Outback Steakhouse restaurants are offering up a FREE $10 Bonus Card when you buy $50 worth of gift cards. The Bonus Card will be valid through July 15th, 2013.
P.F. Chang's :  Through June 16th, purchase $50 in P.F. Chang's Gift Cards and get a $10 Bonus Card Free! Bonus card is valid on a future visit between 5/7/13 – 7/15/13 and only one bonus card may be redeemed per transaction.
Yogurt Mountain:  On Sunday, May 12th, participating Yogurt Mountain locations are giving  6 ounces of frozen yogurt free to moms on Mother's Day, as a way to show our gratitude.
TCBY:  On Mother's Day, participating TCBY stores are offering Mom's a FREE 5 oz yogurt cup.
Beef O'Brady's:  On May 12th, Moms will receive one FREE meal with purchase of an entree of equal or greater value at participating locations only (Up to a $10 value).
Crispers:  On May 12th, get a Free dessert for Mom plus $5 off her next meal.
Free Zoo Admission:  On Mother's Day, over 50 zoo's will be offering free entry for Mom's.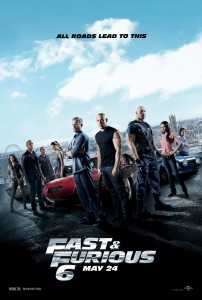 Click here to see if you can score FREE "Fast & Furious 6" Movie Screening Tickets!
Please note that this is only available in select cities only. If it is available in your area, claim your tickets now, since they do fill very quickly!
Screenings will take place this upcoming weekend.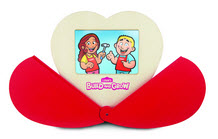 If you're looking for something fun to do with the kids on Saturday and don't want to spend any cash, then sign the kids up to do Lowe's Build and Grow Clinic!
This week it's a FREE Sweetheart Frame that they get to build and take home.  This Sweetheart Frame makes the perfect Mother's Day gift!
The Workshop takes place at 10am on Saturday, May 11th at Lowe's, and you can sign up online.  Clinics are recommended for kids in grades 1 to 5.
By Her Savings on May 9, 2013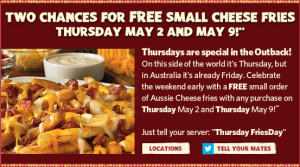 Today (5/9/) is the last day to snag a FREE small order of Cheese Fries with any purchase at Outback Steakhouse!
No coupon is required, just tell your server, "Thursday FriesDay."!
By Her Savings on May 8, 2013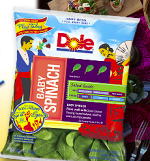 Yippee! There is a new House Party available: Dole Salad Taste of Spain House Party!!  You can head on over here to apply to host this or any other party that might interest you!
If selected as a host, your FREE party pack will contain:
(8) Coupons for FREE DOLE Salad Blends & Kits
(1) Tapas: Delicious Little Dishes from Spain cookbook
(13) Taste of Spain Game pieces with unique code to play online for your chance to win a $40K trip for 2 to Spain, including a coupon for $1.00 off any TWO Distinctively DOLE Salad Kits
(13) DOLE Salad recipe fans
(13) Flamenco-style rose hair clips
Make sure to keep checking your email, because if selected, you will have a limited time to accept!
Not a member of House Party? You can still apply to host. Your application will take you through the sign-up process.
By Her Savings on May 7, 2013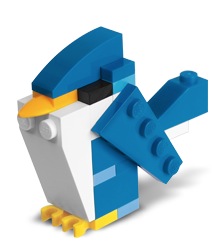 If you live near a Lego Store, there's a FREE kids event on May 7th at 5pm for children ages 6-14!  Learn how to build this mini Blue Bird (above) and take it home for FREE!  Quantities are limited.  Head over here for more information.
By Her Savings on May 6, 2013

Nurses Appreciation Week starts today!!  I have so much respect for nurses and all the hard work, care & time they devote to their patients.  When my oldest son Andrew was 4 months old, he had two open heart surgeries and we basically lived in a hospital for over 3 weeks while he recovered.  My family will be forever grateful to all the wonderful nurses who took such great care of Andrew and helped us all feel as comfortable as possible considering the circumstances.  So to all the nurses out there, THANK YOU!!
In honor of Nurses Appreciation Week, here are a few places honoring nurses.  I will update this post as new offers become available.
By Her Savings on May 3, 2013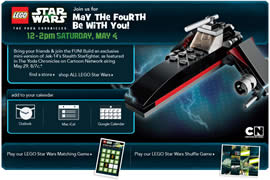 This Saturday, May 4th from Noon to 2p come out to your participating Toys R Us store for a FREE Mini Lego Model Build!  Build an exclusive mini-version of Jek-14′s Stealth Starfighter, as featured in The Yoda Chronicles on Cartoon Network.  Always great when you can find fun, FREE things to do with the kids!
By Her Savings on May 3, 2013

Nationwide, at participating comic book stores, they will be giving away FREE comic books on May 4th!  They've ordered almost 5 million comic books for this event.  Head on over here to find a store near you.

HerSavings.com is a cheerful and rewarding blog devoted to helping you save your hard earned money. Together, we will explore the best deals that will help us save more, spend less...and have fun doing it! So, grab yourself a cup of coffee, get comfortable and let the saving begin!
Read More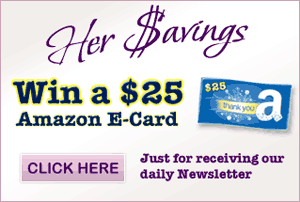 Albertsons
Bath & Body Works
CVS
Fred Meyer
HEB
Kmart
Kroger
old navy
Publix
Rite Aid
SafeWay
Target
Walgreens
Walmart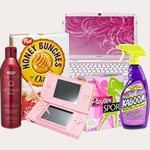 Daily Alerts
Welcome to HerSavings! If your new here, make sure you sign up to receive our Daily Newsletter! By signing up for the HerSavings.com newsletter, you will always stay up to date on the latest deals, coupons and freebies that are available! Sign up today and never miss out!